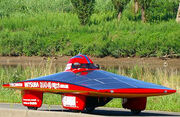 Japanese team competing regularly in Suzuka Dream Cup and other Japanese track races.
Technology
Edit
Motor: DC brushless in-wheel DD (M1508-4) made by Mitsuba
Batteries: Lithium-ion polymer (SLPB68106100) Kokam products
Solar Cells: single-crystal silicon (NOM-17.5SP-125x65 · NOM-17.2-100x100) NOMURA.Co
Ad blocker interference detected!
Wikia is a free-to-use site that makes money from advertising. We have a modified experience for viewers using ad blockers

Wikia is not accessible if you've made further modifications. Remove the custom ad blocker rule(s) and the page will load as expected.