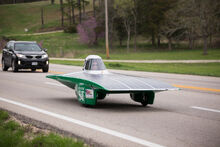 Missouri S&T's solar car team has been competing since 1993. The team has made 11 cars and has competed in the American Solar Challenge, World Solar Challenge, and Formula Sun Grand Prix.
Sol Survivor (1993)
E-Cubed (1995)
Solar Miner (1997)
Solar Miner II (1999)
Solar Miner III (2001)
Solar Miner IV (2003)
Solar Miner V (2005)
Micro Miner (2006)
Solar Miner VI (2008)
Solar Miner VII (2010)
Solar Miner VIII (2014)
Ad blocker interference detected!
Wikia is a free-to-use site that makes money from advertising. We have a modified experience for viewers using ad blockers

Wikia is not accessible if you've made further modifications. Remove the custom ad blocker rule(s) and the page will load as expected.