Winner of the
Suzuka Dream Cup
2010. The team has had many top 3 results in this and other races.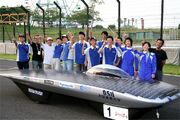 Technology
Edit
Although the team has been competing since 1995, only two cars have been constructed in that time, instead making modifications to the existing car each year.
OSU model S'
Edit
The upright seating model weighs 140 kg, and currently uses Panasonic Li-Ion batteries. It raced from 2003 to the present. In the 2009 WSC it raced in the adventure class.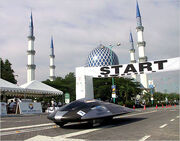 OSU model S
Edit
This version weighed 160 kg. It raced from 1995 to 2002.